• Aces High — Iron Maiden
• Aerials — System Of A Down
• Aesthetics Of Hate — Machine Head
• Ain't Talking 'Bout Love — Van Halen
• All Lips n' Hips — Electric Boys*
• All Right Now — Free
• Alright — Supergrass
• Animal — Def Leppard
• Anthem (We Are The Fire) — Trivium
• Atomic Punk — Van Halen
• Back In Black — AC/DC. Klassikern!
• Bat County — Avenged Sevenfold
• Bat Out Of Hell — Meat Loaf
• Battery — Metallica
• Beast And The Harlot — Avenged Sevenfold
• Best Of You — Foo Fighters
• Black Night — Deep Purple
• Born To Be Wild — Steppenwolf
• Bring Your Daughter To The Slaughter — Iron Maiden
• Burn It Down — Avenged Sevenfold
• Can I Play With Madness — Iron Maiden
• Detonation — Trivium
• Cochise — Audioslave
• Communication Breakdown — Led Zeppelin
• Cowboys From Hell — Pantera
• Crash And Burn (You Said No) — Busted
• Crazy — Aerosmith: "That kinda loving turns a man to a slave, that kinda loving sends a man right to his grave."
• Crazy Little Thing Called Love — Queen
• Crazy Train — Ozzy Osbourne
• Crossroads — Cream
• Cum On Feel The Noice — Quiet Riot


• Deuce — Kiss*
• Dissident — Pearl Jam
• Don't Believe A Word — Gary Moore
• Eye Of The Tiger — Survivor: "You trade your passion for glory, don't lose your grip on the dreams of the past." Snygg låt som går högt.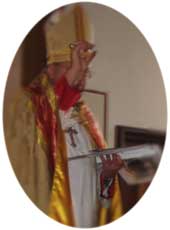 Vi har tyvärr inget vigvatten
• Fight Fire With Fire* — Metallica: "Soon to fill our lungs the hot winds of death. The gods are laughing, so take your last breath. Fight fire with fire, ending is near." När musik skall vara som hårdast och göra som mest ont kommer Metallica in som finniga tonåringar och styr upp situationen.
• The Final Countdown — Europe
• Fool For Your Loving No More — Whitesnake

• Girls Got Rythm — AC/DC
• Going To California — Led Zeppelin
• Goodbye To Romance — Ozzy Osborne
• Good Times Bad Times — Led Zeppelin


• Have A Drink On Me — AcDc
• Higher — Creed: "Can you take me higher, to a place where blind men see. Can you take me higher, to a place with golden streets."
• Highway Star — Deep Purple
• Highway To Hell — AC/DC*
• Holy Diver — Dio*
• Holy Smoke — Iron Maiden
• Home Sweet Home — Motley Crüe*
• Honky Tonk Woman — Rolling Stones
• How You Remind Me — Nickelback. Ny: "It's not like you didn't know that I said I love you and I swear I still do. It must have been so bad, cause living with me must have damn near killed you. This is how you remind me of what I really am."
• Hush — Deep Purple*
• I Believe In A Thing Called Love — The Darkness
• I Don´t Want To Miss A Thing — Aerosmith: "Lying close to you, feeling your heart beating, and I'm wondering what you're dreaming. Wondering if it's me you're seeing, then I kiss your eyes and thank God we're together" Gullig rockballad som går högt.
• I Feel Loved — Depeche Mode. En bra låt med ett fräscht sound.
• If Tomorrow Never Comes — Garth Brooks: "If tomorrow never comes - will she know how much I loved her. Did I try in every way to show her every day - that she's my only one" en klassisk country-ballad med oändlig längtan.
• I Love It Loud — Kiss: "This is my attitude, take or leave it."
• I Love Rock´n´roll — Joan Jett
• In Your Face — Children Of Bodom
• I Wanna Rock — Twisted Sister: "Turn it down you say, well all I got to say to you is time and time again I say, -NO!" Vad kan man säga ...
• I Was Made For Loving You — Kiss: "Feel the magic — There's something that drives me wild." Rockklassiker!

• Jump — Van Halen
• Just Because — Jane's Addiction
• Keep On Running — Spencer Davis Group
• Learn To Fly — Foo Fighters: "I'm looking to the sky to save me, Looking for a sign of life." Jäkligt bra låt! Tungt.
• Lick It Up — Kiss
• Lil' Devil — The Cult
• Love Gun — Kiss*
• Love In An Elevator — Aerosmith
• Love Train — Wolfmother

• Master Of Puppets — Metallica
• Mississippi Queen — Mountain
• Mr Brownstone — Guns'n'roses
• More Than Words — Extreme: "Saying I love you is not the words I want to hear from you. It's not that I want you not to say, but if you only knew how easy it would be to show me how you feel"

• Number Of The Beast — Iron Maiden: "I´m coming back, I will return, and I possess your body and I´ll make you burn. I have the fire, I have the force. I have the power to make my evil take it´s course." Hur ond kan man bli? Nyinspelad!
• Paradise City — Guns N' Roses: "Take me down to the Paradise City where the grass is green and the girls are pretty". Version med eller utan gitarrsolo. Låten är en riktig tungvrickare, verserna innehåller så mycket text att man nog måste kunna låten innan.
• Paranoid — Black Sabbath
• Poison — Alice Cooper
• Pull Harder On The Strings Of Your Martyr — Trivium
• Raining Blood — Slayer
• Right Now* — Van Halen "Don't wanna wait 'til tomorrow, why put it off another day?"
• Rock'n Roll All Night — Kiss*
• Rock The Night — Europe*
• Run To The Hills — Iron Maiden*
• Scar Tissue — Red Hot Chili Peppers
• Seek And Destroy — Metallica
• She Bangs The Drums — The Stone Roses
• Shools Out — Alice Cooper
• Shout It Out Loud — Kiss*
• Skin O'My Teeth — Megadeth
• Slaying The Dreamer — Nightwish
• Smoke On The Water — Deep Purple
• South Of Heaven — Slayer
• Still Loving You — Scorpions: "Is there really no chance to start once again? - I'm loving you. Try, baby try — to trust in my love again, I will be there, I will be there." En av rockhistoriens bästa powerballader! Går väldigt högt för killar, och mer lagom för tjejer ...
• Strutter — Kiss*
• Sweet Child O' Mine — Guns 'N' Roses: "Her hair reminds me
of a warm safe place, where as a child I'd hide. And pray for the thunder and the rain to quietly pass me by." En bra låt med en bra text.
• Symphony Of Destruction — Megadeth
• Take The Power Back — Rage Against The Machine
• Them Bones — Alice In Chains
• This Love — Pantera
• Tom Sawyer — Rush
• Torn — Creed
• Under The Bridge — Red Hot Chili Peppers: "Take me to the place I love, take me all the way." Låten är väldigt bra men vad handlar den om? Tolkningar är välkomna!
• Under Pressure — Queen.
• Walk — Pantera
• Whole Lotta Rosie — ACDC
• Wings Of A Butterfly — HIM
• The Wolf Is Loose — Mastodon
• You Know What They Do To Guys Like Us In Prison — My Chemical Romance
• You Shook Me All Night Long — AC/DC