• Ain´t It Funny — Jennifer Lopez
• Ain't No Mountain High Enough* — Diana Ross
• Ain't No Other Man — Christina Aguilera "Ain't no other man, can stand up next to you. You got soul, you got class. You got styl1 your bad ass"
• Ain't No Sunshine When She's Gone — Bill Withers - låten finns i några andra versioner också.
• All Lips n' Hips — Electric Boys*
• All My Life — K-Ci & JoJo: "Said, I promise to never fall in love with a stranger, you're all I'm thinkin' of. I praise the lord above for sending me your love. I cherish every hug - I really love you!"
• All Right Now — Free
• All Out Of Love — Air Supply "I'm lying alone with my head on the phone, thinking of you till it hurts" Snygg låt
• Alright — Supergrass
• A Man Of Constant Sorrows — O Brother Where Are Thou
• Always On My Mind — Elvis Presley: "Little things I should have said and done, I just never took the time."
• Are You Gonna Go My Way — Lenny Kravitz
• As Long As You Love Me — Backstreet Boys. Kärlek!

• Baby Come To Me — James Ingram
• Baby One More Time — B. Spears. "Oh baby, baby, the reason I breathe is you. Boy you got me blinded, Oh pretty baby." - Hit me baby one more.
• Bad Romance — Lady Gaga
• Because We Want To — Billie
• Back For Good — Take That
• Beautiful Day — U2
• Because Of You — Kelly Clarkson
• Bed Of Roses — Bon Jovi: "For it's you that I'd die to defend. I want to lay you down on a bed of roses, for tonite I sleep on a bed on nails. I want to be just as close as the Holy Ghost is."
• Belive — Cher*: "Do you belive in life after love."
• The Best — Tina Turner
• Billy Jean — Michael Jackson
• Bimbo — Lambretta*
• Black — Pearl Jam
• Black Or White — Michael Jackson
• Blister In The Sun — Violent Femmes
• Blue Hawaii — Elvis. "This magic night of nights with you"
• Born To Be Wild — Steppenwolf
• Boys Don't Cry — The Cure
• Breathless — The Corrs: "I cannot lie, from you I can not hide. I'm losing will to try, can't hide it, can't fight it. So go on, go on. Come on leave me breathless."
• Breakfast In America — Supertramp: "Take a look at my girlfriend, she´s the only one I got. Not much of a girlfriend, never seem to get a lot" Låten har en kryptisk text och går högt.
• Broken Wings — Mr Mister
• Brown Eyed Girl — Van Morrison. "Making love in the green grass, uh, behind the stadium." En modern klassiker.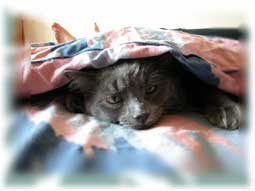 Deppig? — Sjung in en låt!
• California Girls — Beach Boys: "I been all around this great big world And I seen all kind of girls" Eller varför inte sjunga om California boys istället?
• Californication — Red Hot Chili Peppers
• Candle In Thecenter Wind — Elton John "Loneliness was tough, the toughest role you ever played. Hollywood created a superstar and pain was the price you paid" en snygg låt.
• Can´t Get You Out Of My Head — K Minouge
• Can´t Help Falling In Love — Elvis Presley*: "Take my hand, take my whole life too, for I can't help falling in love with you."
• Can´t Take My Eyes Off You — Frankie Valie: "Pardon the way that I stare, there's nothing else to compare. The sight of you leaves me weak, there are no words left to speak."
can't touth this Mc Hammer
• Centerfold — J. Geils Band: "Years go by I'm lookin' through a girly magazine, & there's my homeroom angel on the pages in-between."
• Cowboy Take Me Away — Dixie Chicks: "I wanna be the only one, for miles and miles. Except for maybe you and your simple smile. Oh it sounds good to me: Cowboy take me away, fly this girl as high as you can" en väldigt snygg countrylåt!

• Crazy — Aerosmith: "That kinda loving turns a man to a slave, that kinda loving sends a man right to his grave."
• (You drive me) Crazy — Britney Spears: "You drive me crazy I just can't sleep. I'm so excited, I'm in too deep."
• Crazy Little Thing Called Love — Queen
• Cruising — Gwyneth Huey
• Cum On Feel The Noice — Quiet Riot

• Dancing In The Moonlight — Toploader
• Daniel — Elton John
• Depuis le premier jour — Isabelle Boulay. En ballad på franska.
• Disco 2000 — Pulp
• Don´t Let The Sun Go Down On Me — Elton John
• Don´t Speak — Imbruglia
• Do They Know It's Christmas
• Do Wah Diddy Diddy — Manfredd man
• Do you Love Me Just Say Yes* — Highway 101: "You don't have to go on and on, cause you know what I really want, and that's your love no more no less" Countryhäng med kärlekstema.
• The Power Of A Woman — Eternal

• End Of The Road — Boyz II Men
• Eternal Flame — Bangles: "Do you feel my heart beating. Do you understand, do you feel the same, am I only dreaming." Klassiker!
• Every Breath You Take — The Police: "O can't you see, you belong to me. How my poor heart aches with every step you take." Tänk på att låten går väldigt högt i registret.
• Everybody (Backstreet's Back) — Backstreet Boys. Skriv gärna egen text, låten har plats för massor av roliga körer!
• Everybody Loves Somebody Sometimes — Dean Martin
• Everybody's Free (To Wear Sunscreen): Baz Luhrmann: "Do not read beauty magazines, they will only make you feel ugly." Perfekt för dig som vill hålla ett väldigt bra tal vid t.ex. bröllop eller kurs. Skriv gärna egna ord till musiken.
• Everything I Do I Do It For You — Bryan Adams
• Everytime We Touch — Cascada: "Your arms are my castle, your heart is my sky. They wipe away tears that I cry. The good and the bad times, we've been through them all. You make me rise when I fall"
• Eye Of The Tiger — Survivor: "You trade your passion for glory, don't lose your grip on the dreams of the past." Snygg låt som går högt.

• Faith — George Michael
• Fame — Irene Cara: "I wanna live forever, I'm gonna learn how to fly".
• Fastlove — George Michael* "Stupid Cupid keeps on calling me"
• Fever: "Chicks were born to give you fever, be it farenheit or centigrade. They give you fever when you kiss them."
• Fight Fire With Fire* — Metallica: "Soon to fill our lungs the hot winds of death. The gods are laughing, so take your last breath. Fight fire with fire, ending is near." När musik skall vara som hårdast och göra som mest ont kommer Metallica in som finniga tonåringar och styr upp situationen.
• Fire — Bruce Springsteen: "I'm driving in my car, I turn on the radio. I'm pulling you close, you just say no. You say you don't like it, but girl I know you're a liar, `Cause when we kiss, Fire." Ny.
• The First Time Ever I Saw Your Face — Roberta Flack: "I thought the sun rose in your eyes, and the moon and stars were the gifts you gave to the dark and the empty skies, my love."
• Flashdance, What A Feeling — Irene Cara: "All alone I have cried silent tears full of pride."
• Fly Like An Angel — Seal
• Foolish Games — Jewel: "Well in case you failed to notice, in case you failed to see. This is my heart bleeding before you, this is me down on my knees, and these foolish games are tearing me apart"
• Follow Me — Uncle Cracker
• Freak Like Me — Spiller?
• Freedom — George Michael
• Free Falling — Tom Petty: "it`s a long day, living in Reseda."
• From This Moment On — Shania Twain: "I will love you with every beat of my heart." Kärleksballad med pratmöjligheter i introt.
• Funky Monks — Red Hot Chili Peppers

• Girl From Ipanema — Jobim. "When she walks, she's like a samba, that swings so cool and sways so gentle. That when she passes, each one she passes goes — ooh" En version med akustisk nylonsträngad bossa-nova gitarr.
• Give A Little Bit (Of Your Heart) — Supertramp
• Goodbye Yellow Brick Road — Elton John: "So goodbye yellow brick road, where the dogs of society howl. You can't plant me in your penthouse, I'm going back to my plough."
• Good Souls — Starsailor
• Graceland — Paul Simon
• Great Balls of Fire — Jerry Lee Lewis: "I'm really nervous but it sure is fun. Come on baby, you drive me crazy. Goodness gracious great balls of fire." Nyinspelad rockklassiker.
• Groovy Kind Of Love — The Mindbenders
• Grow Old With You — Adam Sandler
• Have I Told You Lately That I Love You — Rod Stewart "Have I told you there's no one else above you" Kärlek med snygg karaoke bakgrund
• Help — Beatles*: "Help me if you can, I'm feeling down, and I do appreciate you being round."
• Here I Go Again — Whitesnake
• Hero — Mariah Carey
• Hey Now (Girls Just Wanna Have Fun) — Cyndi Lauper. "some boys take a beautiful girl and hide her away from the rest of the world. I want to be the one to walk in the sun."
• Higher — Creed: "Can you take me higher, to a place where blind men see. Can you take me higher, to a place with golden streets."
• Highway To Hell — AC/DC*
• Hi Ho Silver Lining — Jeff Beck
• Hippy Hippy Shake — Swinging Blue Jeans
• Holy Diver — Dio*
• Home Sweet Home — Motley Crüe*
• Honky Tonk Woman — Rolling Stones
• Hotel California — Eagles
• House Of The Rising Sun — Bob Dylan (versionen från 1961 med akustisk gitarr) vi har även versionen med The Animals.
• How Deep Is Your Love — Bee Gees
• How You Remind Me — Nickelback. Ny: "It's not like you didn't know that I said I love you and I swear I still do. It must have been so bad, cause living with me must have damn near killed you. This is how you remind me of what I really am."
• Hush — Deep Purple*
• I Believe In A Thing Called Love — The Darkness
• I Got You Under My Skin — Frank Sinatra
• I Can See Clearly Now — Jimmy Cliff
• Ice Ice, Baby — Vanilla Ice
• I Don´t Want To Miss A Thing — Aerosmith: "Lying close to you, feeling your heart beating, and I'm wondering what you're dreaming. Wondering if it's me you're seeing, then I kiss your eyes and thank God we're together" Gullig rockballad som går högt.
• I Feel Loved — Depeche Mode. En bra låt med ett fräscht sound.
• If Tomorrow Never Comes — Garth Brooks: "If tomorrow never comes - will she know how much I loved her. Did I try in every way to show her every day - that she's my only one" en klassisk country-ballad med oändlig längtan.
• I Have Nothing — Whitney Houston: "You see through right to the heart of me" Ballad.
• I Just Can´t Get Enough — Depeche Mode: "When I'm with you baby, I go out of my head, and I just can't get enough." En glad låt med en hittig Depeche.
• I Just Wanna Make Love To You — Etta James
• Ill Willed Person — Jaymay "I am not an ill-willed person"
• I Knew I Loved You — Savage Garden
• I Knew You Were Waiting (For Me) — G Michael & A Franklin
• I Love It Loud — Kiss: "This is my attitude, take or leave it."
• I Love Paris — Frank Sinatra
• I Love To Love (But My Baby Loves To Dance) — Tina Charles
• I Love Rock´n´roll — Joan Jett
• Imagine — John Lennon
• I´m Dreaming Of A White Christmas* — Bing Crosby
• I´m Every Woman — Whitney Houston
• I´m Not A Girl, Not Yet A Woman — B. Spears. • I´m On Fire — Springsteen, Ny.
• I'm OK — Christina Aguilera — väldigt bra musik.
• I´m Outta Love — Anastacia
• I'm So Excited — The Pointer Sisters
• I´m Too Sexy (For my ...) — Right Said Fred
• I'm Yours — Jason Mraz "There's no need to complicate. Our time is short. This is our fate, I'm yours , do dodo"
• Independent Woman — Destiny´s Child
• In The Navy — Village People
• I Promised Myself — Nick Kamen - Ny - "I promised the world to you. I gave you flowers, you made my dreams come true."
• I Should Be So Lucky — Kylie Minogue "In my imagination there is no complication - I dream about you all the time" 80-talet, vilka kläder!
• I Still Belive — Mariah Carey: "I need you baby, I still believe that we can be together, if we believe that true love never has to end."
• It´s Not Unusual — Tom Jones "it's not unusual to find out that I'm in love with you"
• It´s Now Or Never — Elvis Presley: "I'd spend a lifetime waiting for the right time, now that your near, the time is here at last."
• I Wanna Dance With Somebody — Whitney Houston: "I need a man who'll take a chance on a love that burns hot enough to last."
• I Want To Hold Your Hand — Beatles*: "Yeah, you got that something, I think you'll understand ..."
• I Wanna Go Home — Sator*
• I Wanna Rock — Twisted Sister: "Turn it down you say, well all I got to say to you is time and time again I say, -NO!" Vad kan man säga ...
• I Want It That Way — Backstreet Boys: "Now I can see that we're falling apart, from the way that it used to be, yeah."
• I Want Your Sex — Part 1 — George Michael: "I've waited so long baby, out in the cold. I can't take much more girl, I'm losing control."
• I Was Made For Loving You — Kiss: "Feel the magic — There's something that drives me wild." Rockklassiker!
• I Will Be Right There*— All 4 One "you touched my world and I'll never be the same, you touched my heart and now everything has changed"
• I Will Always Love You — Whitney Houston. Vilken kärlek!
• I Wish It Would Be Christmas Everyday* — Wizzard
• I Won't Back Down — Tom Petty

• The Joker — Steve Miller Band
• Jump — Van Halen
• Just A Day — Feeder
• Just A Girl — No Doubt: "This world is forcing me to hold your hand. 'Cause I'm just a girl, little ol' me."
• J'y crois encore (echange) — Lara Fabian. En väldigt fin låt på franska.
• Keep On Running — Spencer Davis Group
• The Ketchup Song — Las Ketchup "he's the man there en la disco, playing sexy feeling hotter"
• Kids In America* — Shebang "Come closer, honey that's better.
Got to get a brand new experience. Feeling right. Oh don't try to stop baby, hold me tight." Kim Wilde har också sjungit in låten.
• Kiss — Prince "You don't have to be rich to be my girl. You don't have 2 be cool to rule my world" originalet styr!
• Kiss — Tom Jones
• Kiss From A Rose — Seal: "You remain my power, my pleasure, my pain, baby. To me you're like a growing addiction that I can't deny."
• Kiss Kiss — Holly Valence
• Kiss Me — Sixpence None The Richer
• La Bamba — Los Lobos
• Lady — Kenny Rodgers: "Lady, for so many years I thought I'd never find you. You have come into my life and made me whole. Forever let me wake to see you each and every morning."
• Lady In Red — Chris de Burgh: "The lady in red is dancing with me, cheek to cheek, there's nobody here, it's just you and me."
• Lady Marmalade — Aguilera, Lil´Kim, Elliott, Mya & Pink.
• Last Christmas — Wham!
• Learn To Fly — Foo Fighters: "I'm looking to the sky to save me, Looking for a sign of life." Jäkligt bra låt! Tungt.
• Les Champs Élysées — Joe Dassin
• Like A Virgin — Madonna: "I made it through the wilderness, somehow I made it through. Didn't know how lost I was, until I found you."
• Like Fire Tonight — Günther "When we're together, I'm feeling so strong, Enormous emotion, yeah, all night long. I am your man"
• Living Next Door To Alice — Smokie, den går naturligtvis att sjunga med Who the f**k is alicetexten.
• Losing My Religion — REM
• Lost In Love — Airsupply
• Love Is All Around — Wet Wet Wet*: "You know I love you, I always will. My mind's made up by the way that I feel. There's no beginning, there'll be no end, 'cause on my love you can depend."
• Love Me Like You Do — The Magic Numbers "All my life I'd hurt the ones I loved, but baby you could turn it round" Ultrapoppigt!
• Love Me Tender — Elvis Presley. Låten är väldigt långsam.
• Love Me Two Times — Doors

• Mambo Number 5 — Lou Bega: "I do ought to fall in love with a girl like you. You can´t run and you can´t hide. You and me gonna touch the sky."
• Mandy — Barry Manilow: "Well you came and you gave without taking, but I sent you away, oh Mandy".
• Maria Maria — Santana: "When the wind blows I can feel you through the weather, and even when we are apart it feels like we are together."
• Material Girl — Madonna
• Mercy — Duffy: "I don't know what you do but you do it well, I'm under your spell" Årets mest säljande låt 2008. Fungerar perfekt som duett.
• Merry Christmas Everyone* — Shaking Stevens
• Mickey — Toni Basil
• Moon River — Andy Williams
• More Than Words — Extreme: "Saying I love you is not the words I want to hear from you. It's not that I want you not to say, but if you only knew how easy it would be to show me how you feel"
• Mr. Tambourine Man — Byrdsversionen
• Murder On The Dancefloor — Sophie Ellis Bextor
• Music — Madonna: "Hey Mr DJ put a record on, I wanna dance with my baby, do you like to Boogie-Woogie..." Fånig text.
• My Heart Belongs To Daddy - Marilyn Monroe eller Peggy Lee
• My Heart Will Go On — Celine Dion: "Love can touch us one time
and last for a lifetime, and never let go till we're gone." En ballad som handlar om den eviga kärleken. Låten var med i filmen Titanic.
• My Love — London Boys
• My Way — Frank Sinatra: "I've lived a life that's full. I've traveled each and every highway, but more, much more than this - I did it my way."
• Nail It To The Wall — Stacy Lattisaw
• Natural Woman — Aretha Franklin
• Nights In White Satin — Moody Blues
• 9 to 5 — Dolly Parton: "Jump on outta bed and I stumble to the kitchen, pour myself a cup of ambition and yawn and stretch and try to come to life." Från en av världens mest ambitiösa låtskrivare.
• No More Lonely Nights — Paul McCartney
• Nothing's Gonna Change My Love For You — Glenn Medeiros
• Now That We Found Love — Heavy D & The Boyz
• Number Of The Beast — Iron Maiden: "I´m coming back, I will return, and I possess your body and I´ll make you burn. I have the fire, I have the force. I have the power to make my evil take it´s course." Hur ond kan man bli? Nyinspelad!
• (You Make Me Feel Like a) Natural Woman — Aretha Franklin

• Oh, Pretty Woman — Roy Orbison
• On The Wings Of Love — Jeffrey Osbourne: "Just smile for me and let the day begin, you are the sunshine that lights my heart within."
• Paradise City* — Guns N' Roses: "Take me down to the Paradise City where the grass is green and the girls are pretty". Versionen utan gitarrsolo. Låten är en riktig tungvrickare, verserna innehåller så mycket text att man nog måste kunna låten innan.
• Parklife — Blur, vilken popmusik dom gjorde!
• People — Barbara Streisand: "Lovers are very special people." Ballad.
• People Are Strange (When you are a stranger) — The Doors
• Perfect — Fairground Attraction
• Physical — Olivia Newton-John: "I took you to an intimate restaurant, then to a suggestive movie. There's nothing left to talk about unless it's horizontally." Ord och inga visor.
• Piece Of My Heart — Janis Joplin
• The Power Of A Woman — Eternal
• The Power Of Love — Celine Dion: "I´m your lady and you are my man, whenever you reach for me I´ll do all that I can." 80-talsballad.
• Poison — Alice Cooper*

• Red Red Wine — UB40
• Redemption Song — Bob Marley "Emancipate yourselves from mental slavery, none but ourselves can free our minds" Otroligt bra!
• Red Headed Woman — Bruce Springsteen "Well now listen up stud, your life's been wasted, 'til you've been down on your knees and tasted a red headed woman" mysfräck kärleksförklaring
• Respect — Aretha Franklin
• Right Here Waiting For You — Richard Marx: "Oh, can't you see it baby, you've got me goin' crazy." En lite svår kärleksballad. Svår för att den går så högt.
• The River — Good Charlotte
• Rock Around the Clock — Bill Haley
• Rock'n Roll All Night — Kiss*
• Rock The Night — Europe*
• Rock This Town — Straycats
• Roll With It — Oasis
• Second Time Around — Barbara Streisand
• Sex And Drugs And Rock And Roll — Ian Dury & Blockheads
• She Can Put Her Shoes Under My Bed Anytime*— Johnny Duncan "If giving her some happiness is messing up your plans, I'll be more than happy to take her off your hands" Man ställer upp för countrypolarna.
• She Loves You — Beatles*
• Sheena Is A Punk Rocker — Ramones
• The Shoop Shoop Song — Cher
• Should I Stay Or Should I Go — The Clash: "Darling you gotta let me know, should I stay or should I go. If you say that you are mine, I'll be there till the end of time." Punkklassiker. Halvny.
• Show Me Heaven — Maria McKee: "I never felt this way" En kärlekssång.
• Signed, Sealed, Delivered — Stevie Wonder: "Oo-wee babe you set my soul on fire, that's why I know you are my only desire. Oo baby, here I am, signed, sealed delivered, I'm yours." Svängigt!
• Sign Your Name — Terence Trent D´Arby: "Sign Your Name across my heart, I want you to be my lady."
• Simply The Best — Tina Turner
• Since U Been Gone — Kelly Clarkson
• Silver Machine — Hawkwind
• Slaying The Dreamer — Nightwish
• Smooth — Santana & Rob Thomas
• Smoke On The Water — Deep Purple
• Soul Man — Blues Brothers
• Sous le vent — Garou & Celine Dion. En snygg duett på franska.
• Stand By Me — B King: "Whenever you're in trouble, won't you stand by me, oh stand by me."
• Stand Up For Love — Destiny's Child
• Staring At The Sun — U2
• Strangers In The Night — Frank Sinatra: "Little did we know, love was just a glance away." Feta snygga stråkar. Låten finns även på Italienska under namnet: "solo piu' che mai" (Johnny Dorelli).
• Start Me Up — Stones*: "If you start me up I'll never stop. I've been running hot. You got me ticking gonna blow my top."
• Steady As She Goes — The Raconteurs (Jack White)
• Step By Step — New Kids on the Block
• Staring At The Sun — U2
• Still Loving You — Scorpions: "Is there really no chance to start once again? - I'm loving you. Try, baby try — to trust in my love again, I will be there, I will be there." En av rockhistoriens bästa powerballader! Går väldigt högt för killar, och mer lagom för tjejer ...
• Suck My Kiss — Red Hot Chili Peppers
• Summer Nights — Grease. Finns bland duetterna.
• Sugar Sugar — The Archies
• Suspicious Minds — Elvis
• Sweet Child O' Mine — Guns 'N' Roses: "Her hair reminds me
of a warm safe place, where as a child I'd hide. And pray for the thunder and the rain to quietly pass me by." En bra låt med en bra text.
• Sweet Home Alabama — Lynyrd Skynyrd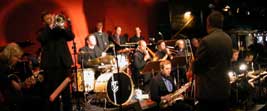 Vi har inget storband, men vi har både stor & liten musik!
• Take A Look At Me Now — Phil Collins (Against All Odds)
• Take My Breath Away — Berlin*: "Turning and returning to some secret place inside. Watching in slow motion as you turn my way, and say, take my breath away, my love."
• Take On Me — A-ha. Den går högt.
• Tears Dry On Their Own — Amy Winehouse "I wish I could say no regrets, and no emotional debts. Cause that kiss goodbye the sun sets, so we are history" Snyft.
• Tears In Heaven — Eric Clapton — Inte så munter. Men fin.
• Teddy Bear — Elvis Presley: "Baby let me be your lovin' teddy bear, put a chain around my neck and lead me anywhere." Fantastisk text.
• Teenage Dirtbag — Wheatus "Her name is Noel, I have a dream about her. She rings my bell, I got gym class in half an hour" Kärlekstext!
• Thank God I´m A Country Boy — John Denver
• Thank You — Dido
• That Don´t Impress Me Much — Shania Twain
• That´s Amore — Dean Martin: "When the moon hits you eye like a big pizza pie, that's amore. When the world seems to shine like you've had too much wine, that's amore."
• The One That Got Away — Pink "had a weakness for a boy with a guitar and a drink in his hand, his words were like heaven in my hurricane"
• (I've had) The Time Of My Life — Dirty Dancing: "Cause I've had the time of my life and I owe it all to you. I've been waiting for so long, now I've finally found someone to stand by me." En duett. Ny.
• This Time — Starsailor
• Three Times A Lady: "There´s nothing to keep us apart. You´re once, twice, three times a lady, and I love you."
• Ticket To Ride — Beatles*
• Time After Time — Cindy Lauper (En discotight version)
• Too Funky — George Michael
• Torn — Natalia Imbruglia
• Torn — Creed
• Touch Me — Samantha Fox: "I was hunting you down and I was the bait. When I saw you there I didn't mean to hesitate. Touch me, touch me
I want to feel your body your heart beat next to mine"
• Touch Me — Baccara: "you know that lovin' feeling, it makes us hit the ceiling" åttiotalet med glada rim, stön och exotiskt uttal.
• Toxic — Brittney Spears: "With the taste of your lips I'm on a ride.
You're toxic, I'm slippin' under. With a taste of the poison paradise I'm addicted to you. Don't you know that you're toxic? And I love what you do"
• Truly Madly Deeply — Savage Garden: "I want to lay like this forever, until the sky falls down on me."

• U Can't Touch This — MC Hammer "Go with the flow in a spin, if you can't move to this - then you probably are dead"
• Under The Bridge — Red Hot Chili Peppers: "Take me to the place I love, take me all the way." Låten är väldigt bra men vad handlar den om? Tolkningar är välkomna!
• Unchain My Heart — Joe Cocker "Baby let me free."
• Under Pressure — Queen.
• Uptown Girl — Westlife

• Venus* — Bananarama
• Vision Of Love — Mariah Carey
• Vogue — Madonna
• Wake Me up Before You Go Go — Wham!
• Walking On Sunshine* — Katrina And The Waves
• Walk Of Life — Dire Straits: "Here comes Johnny singing I Gotta Woman down in the tunnels, trying to make it pay. He got the action, he got the motion, yeah, the boy can play."
• Wannabe — Spice Girls*: "If you want my future forget my past, if you wanna get with me better make it fast." Mycket ord och fart.
• Wanted Dead Or Alive — Bon Jovi: "I'm a cowboy, on a steel horse I ride, I'm wanted dead or alive"
• Waterfalls — TLC
• We Are The Champions — Queen
• We Are The World — USA For Africa: "Well, send them your heart, so they know that someone cares, and their lives will be stronger and free." Nyinspelad klassiker för er som vill återuppleva 80-talet. Ta på er era finaste kläder, videokameran och kom och sjung!
• We Be Burnin' — Sean Paul
• We Don't Need Another Hero (Thunderdome) — Tina Turner: "Love and compassion, their day is coming, All else are castles built in the air"
• We Go Together — Grease*
• We Belong Together — Mariah Carey: "The feeling that I'm feeling
now that I don't hear your voice, or have your touch and kiss your lips, cause I don't have a choice. Oh, what I wouldn't give, to have you lying by my side." Kärlekssång med mycket körer och känslor.
• West End Girls — Pet Shop Boys
• What Have You Done For Me Lately — Janet Jackson: "Used to go to dinner almost every night, dancing 'til I thought I'd lose my breath. Now it seems your dancing feet are always on my couch, good thing I cook or else we'd starve to death." Ödet eller könsroller?
• What´s Love Gotta Do With It — Tina Turner
• When I Fall In Love — Nat´King´Cole
• When I´m 64* — Beatles. Kom & sjung karaoke när du är 65.
• When You Say Nothing At All — Alison Krauss. Vill ha tyst?
• White Wedding — Billy Idol. 80-talet är tillbaka för gott?
• Why Does It Always Rain On Me? — Travis
• Wind Beneath My Wings — Bette Midler: "Did you ever know that you're my hero, and everything I would like to be? I can fly higher than an eagle, 'cause you are the wind beneath my wings." Möjligtvis världens smörigaste ballad.
• Wings Of A Butterfly — HIM
• With You I´m Born Again — Billy Preston & Syreeta. "Lying safe within your arms, I´m born again."
• Wish You Were Here — Pink Floyd
• With Arms Wide Open
• With Or Without You — U2: "Through the storm we reach the shore, you give it all but I want more." Med kärleken i centrum.
• Womanizer — Britney Spears
• Wonderful Tonight — Eric Clapton

• Yellow — Coldplay
• You Ain´t Seen Nothin´ Yet — Bachman Turner Overdrive
• You Are So Beautiful — Joe Cocker
• You Give Love A Bad Name — John Bon Jovi: "Chains of love, got a hold on me. When passion's a prison you can't break free"
• You Oughta Know — Alanis Morisette
• You´re The First. The Last. My Everything — Barry White "I know there's only one like you — there's no way they could have made two." En rolig låt att sjunga! Även för kören. Texten är fantastisk med genomgående kärlekstema. Låten passar både tjejer och killar.
• You´re The One I Love — Shola Ama
• You´re The One That I Want — Grease* Finns bland duetterna.
• You´ve Got A Friend — James Taylor
• You Shook Me All Night Long — AC/DC
• Your Song — Elton John: "I hope you don't mind that I put down in words, how wonderful life is while you're in the world." En fin låt.